admin September 23rd, 2010
Some new things to alert you all of.  First of all, two speaking dates are coming up for me, and I hope you'll meet me there.  The first is at the ASPO-USA conference coming up - I'll be speaking on Thursday and Saturday along with John Michael Greer, Nicole Foss, folks from the The Oil Drum, former Secretary of State James Schlessinger, Bob Hirsch and a host of others. I hope you can join us.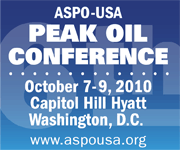 Second, I'll be in New Haven for a two day event focused on urban Adapting-In-Place. (Isn't that cool, the idea is really getting out!)  I'll be speaking on Friday night and then part of a Saturday lineup that includes many community groups and resources.  It's going to be great.
Aaron and I are also going to be teaching the Adapting-In-Place Course, which is a whole-view of what it takes to make your home and community into a place where you can go forward into a lower energy future.  We'll talk about everything from what's inside your walls and how to meet everyday needs to security, community and building energy resilienct.  The class is online and asynchronous, and lasts for 6 weeks, beginning October 5 and running until November 9. This will be the last class we run on this subject for some time, because I have to finish my book on the same subject, so this is the last chance until at least next year.  The cost of the class is $180 or equivalent barter and I also have five scholarship spaces for low income participants who couldn't ordinarily afford the classes.  Email me at [email protected]
Finally, make sure you keep checking the pages on this site – I'm slowly but surely getting new stuff up!
Cheers,
Sharon