admin August 12th, 2010
Seedlings getting ready for transplant:
Among our products at Gleanings Farm are Native Plants for restoration projects and Native gardening, Medicinal Herbs and Vegetables and Flower Plants for your Garden Bed.  
For the 2011 Planting Season we are offering a Garden Plant CSA – we'll start heirloom vegetables and flowers for your garden for you.   Go here to see our wide variety of offerings and make arrangements to sign up.  We will deliver plants to a central location within a 1 hour radius of our home in Knox, NY, or  you are welcome to com and pick them up at the farm, but we do not do mail order!
 We're will also be offering a Medicinal Herb CSA, with delivery of freshly made medicinal teas, tinctures and salves, made from herbs grown sustainably here on the farm and processed immediately to ensure maximum value.  This is the exact opposite of those powdered capsules that sit on the shelf in the store forever!  These products can be mailed to you!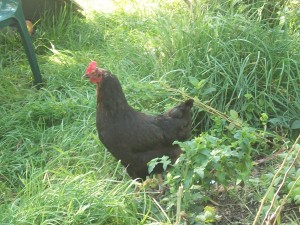 A chicken in part of the herb garden.
This page has the following sub pages.