admin August 12th, 2010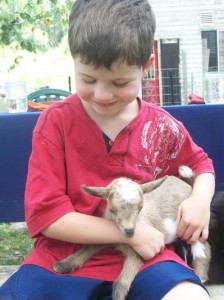 (Asher, my youngest with baby goat Calendula – August 2010)

Kids with kids – from left to right, Isaiah, Simon, Josiah, Asher, Gideon and Rachel, all with 2010 baby goats!
We raise Nigerian Dwarf dairy goats because we believe that everyone needs a goat!  Ok, maybe not quite everyone, but a lot more people want and need a reliable, cost effective supply of delicious, safe, healthy milk.  Most people don't realize that they could have small goats in their own backyards.  Moreover, most people don't realize that you can have both that milk and a quiet, friendly, affectionate and playful pet goat that everyone will enjoy!
Nigerian dwarves are very small goats – about the size of a mid-sized dog, and yet they often give as much as 1/2 gallon of milk a day.  The milk is sweet and delicious – forget everything you've heard about "goaty" milk – it tastes like the best fresh cow's milk and everyone who tries it says how delicious it is.   The milk is higher in butterfat than most other breeds of goat, and it produces proportionally more cheese and other products. 
They do well in small spaces – they can live comfortably in a moderate sized backyard.  They require some grain, but much less per pound of milk than the average cow.  They like to browse and will happily consume leaves, twigs, and marginal weeds that you wanted to get rid of anyway.   They are hardy and easy to care for, and while they do require good housing, minerals, some hay and grain and good care, they are less demanding than many dogs, while producing delicious milk.
One thing everyone worries about is being tied to milking – it is true, of course, that the goats have to be milked every day.  But the does are small and easy to handle, and we've successfully taught neighborhood kids over 12 to milk.  With the addition of a manual milker (like a breast pump for goats) milking requires no real special skill, and it has not been hard to find someone to milk our goats and check on them so we can go away.  You can leave kids in with the mothers when they are young, and go away for a few days, and the ND's are entirely adaptable to flexible milking schedules or to once-per-day milking.
Our goal is to raise goats that will be productive, healthy and adaptable to changing conditions – including reduced availability of inputs.  Thus, we are breeding for good seasonal milk production mostly on grass and hay, healthy independent kidding, good mothering and friendly temperaments.
We strive to raise our animals as naturally as possible, using good husbandry, fresh water, the best hay, good pasture and natural supplements to keep our goats healthy, using allopathic treatments only as a last resort.  Our most persistant trouble has been with meningeal parasite, a parasite endemic to white tailed deer that is carried on snails.  In wet years, browsing goats ingest the snails accidentally and can develop neurological damage if not treated. 
In our attempt to prevent this, we have introduced ducks to our pastures to eat the snails, use our Great Pyrenees dog Mac and his companion American Working Farmcollie Mistress Quickly to keep deer away from our pastures, and are using traditional goat herding and pastoralist techniques to allow them to sustainably graze our woodlands – encouraging them to graze upwards, as they would naturally do (goats are browsers, not grazers like sheep).
We believe this is also healthier and more natural for our goats in general.  Thus, we take our goats for daily walks in the margins of the woods, encouraging them to clean out brushy areas and lightly silvopasture our property.  The ancient art of goat herding is part of our overall plan. 
In a lower energy world, we believe that the best possible way to get milk for many people will be to keep their milk "on the hoof" as it were.  We sell our goats to good homes, for people who share our desire to see the reciprocal relationship between goats and humans be continued and enriched, and will offer help and support to new goat keepers.
Unless you already have other goats, we will not sell one goat – goats are herd animals and this would be cruel to them.  But if you only want one doe, consider a wether – these neutered goats will remain friendly, sweet and kidlike through their whole lives and make wonderful pets.  Our wether, Heliotrope is the joy of my children's lives.
We do not presently show our goats – we try to reduce our impact and driving to fairs and shows is simply not possible for us.  But we breed for good conformation, strong milking lines and good health, and our goats are suitable for the show ring.   Our primary herd sire, Ring Bearer (nicknamed "Frodo") is the son of the Nigerian Dwarf placed first in the nation for butterfat, protein and total milk production so we have wonderful, milky lines!
We reserve the right to retain any kid, but will have milking does, doe kids and wethers available for 2011.  If you'd like to reserve one of our 2011 goat kids, or have questions about our goats, please email [email protected].
This page has the following sub pages.