admin September 6th, 2010
Our bucks are chosen for a mix of milk genetics, conformation and also suitability to a lower energy future.  Stud service is available with current health certificates for $50.
Senior Herd Sire: Chenango Hills Ring Bearer (aka "Frodo")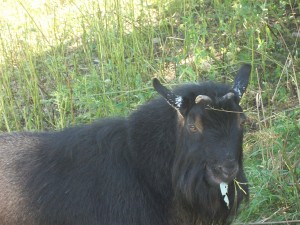 It would be easy to call this just a pretty face, but Frodo is much more than that.  For several years he was David Funk's Herd Sire – producing many of the best Nigerian Dwarf does in the world.  Frodo's daughter routinely sold for $600-$1000.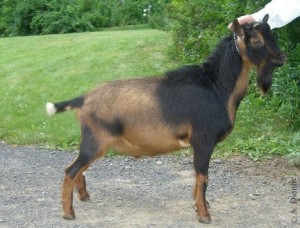 A more formal photo of Frodo.  His mother, Chenango Hills IP Goddess is the #1 Goat in the US ADGA for milk production, butterfat and protein in the entire US for Nigerian Dwarf Goats.  Her total production is utterly astonishing.  At least one of his daughter is in the US ADGA top ten.  I'm pretty amazed that we have Frodo and his wonderful genetics, and his daughters already look extraordinarily promising.  He's also a marvel of friendliness and good temprament – we find Frodo entirely likeable and pleasant to be around, which is something in a buck.  Since temprament has high heritability, this is an important quality for anyone looking for wonderful goats who are easy to manage.
Junior Bucks: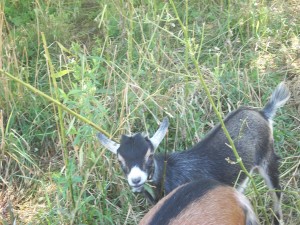 That's Cadfael looking up at you behind Tekky's behind

.  Weathertop Farm Cadfael is Has It All Fantasia's boy, by Dragon Fly IH Tenzin.  He's got great milk genetics on both sides.  In addition, his mother's small size, which he looks to inherit, along with her wonderful udder, are part of our evil plan to produce the best possible goats to go forward in a lower energy world – small goats with big goat production are what we're shooting for.
This year will be his first chance at siring, and we're planning on pairing him with several of our first fresheners.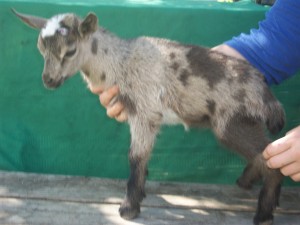 This is Goldenrod, Bast's buckling by Frodo/Ring Bearer.  Because Ring Bearer is older (but still incredibly frisky and energetic – one of these days I have to post a video of Frodo dancing his way down the hillside), we wanted one of his sons to make sure we can retain those astonishing genetics.  And Bast – granddaughter of Mina the Milk Truck, daughter of Ring Bearer's nephew Gil-Galad was the idea line-breeding.  Goldenrod is everything we could have hoped for – we're just thrilled that he'll be joining the boys!
We hadn't planned to keep two of Frodo's sons, but Jessie's little boy Stachys was just such a stunner that we couldn't resist.  We'll be watching both boys grow up. Jessie is an astonishing producer, with great udder and attachments, and Stachys has her solid physique – she holds her body fat on, rather than milking it off, despite her impressive accomplishments in the pail, which is something we want to pass on.  He's a gorgeous little boy!