admin September 6th, 2010
SM3Pines TS Wilhemina (aka "Mina the Milk Truck")
Full Pedigree here.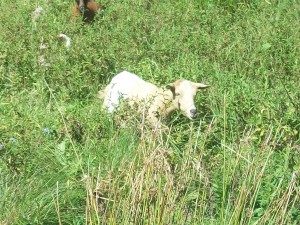 Mina, Coming through the rye - or at least the clover and goldenrod.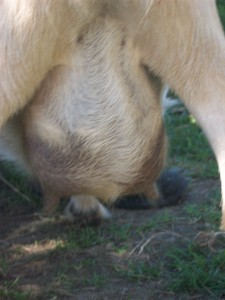 Mina's udder
Mina is a wonderful goat who isn't called "the milk truck" for nothing -  who throws beautiful babies.  She's twice given triplets with plenty of milk for them and the bucket, and this year she gave us Poppy and Hemp, a  beautiful pair of twins out of Ring Bearer.  She's got a nice long lactation curve, and she holds body fat really well - that is, she's good at milking without milking off all her reserve.  This is important in our long-term breeding plan and one of the reasons we are so thrilled to have Mina.
She's smart as a tack and regular as clockwork, with a beautiful udder, still well attached and graceful after her fourth freshening.  Her body has terrific dairy conformation and her babies are uniformly lovely.  In many ways Mina is the anchor goat on our farm.
2011: Breeding Plan - We're definitely going to cross her again with Frodo (Ring Bearer) since the results were so stunning last year - Poppy is a beautiful doeling and we can't wait to see her udder!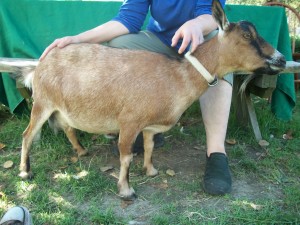 This picture isn't worthy of Weathertop Farm Maia (full pedigree here), who is a stunningly beautiful doe whose babies are the best in our herd.  Her 2009 daughter, Arava, daughter of Wiggy (Dawnland S Lord of the Dance) is our best first freshener ever and had the loveliest conformation on the farm.  Maia gave us gorgeous twin does this year, Licorice and Marshmallow, as like as two peas in a pod and both with stunning conformation and the promise of great udders.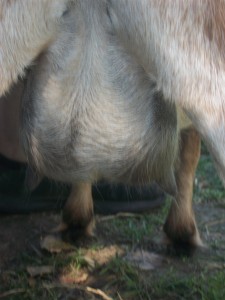 (Maia's Udder)
Maia is a solid, consistent, extremely productive milker with a gentle personality and beautiful, refined dairy character.  In our longer term breeding, Maia's genetics are likely to be extremely important, because she produces with minimal inputs and does extremely well on almost entirely pasture and browse.  Besides her wonderful milking qualities, Maia has a special rapport with our autistic eldest son Eli, and passes her gentle nature to her daughters.
For our 2011 Breeding, she'll be bred again to Chenago Hills Frodo/Ring Bearer - the mix can't be beat!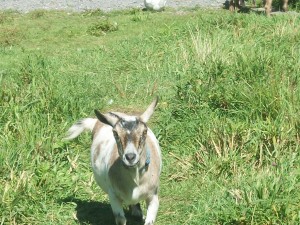 Weathertop Farm Selene, daughter of Dawnland Tabby's Luna and Cornerstone Farm Nekoda was one of our first two goats, and for the first year of our dairy adventures, she and Maia were the center of our lives.  We grew to know and love them deeply, and we realized that Selene is special.
She's special in two ways.  First of all, she's Miss Personality - the most charming, warmest, most affectionate goat I've ever known.  She has a sense of humor - but a warm affection and friendliness, and she passes this incredibly charming temprament down to her babies.  She's our best and most devoted mother as well, mothering the whole herd of babies, with special attentiveness to her own.
Second, due to our early inexperience, Selene has a permanent disability - she contracted meningeal parasite, a parasite carried by white tailed deer on snails, and it caused permanent neurological damage.  If you come to the farm you'll see that Selene has a limp and an odd gait.  But it doesn't stop her from getting around, bossing the rest of the goats, mothering all the babies and giving birth to beautiful, friendly kids, so we just sit back and admire Selene's determination.
Selene's very impressive in the milk pail, with production only a touch less than Jessie's,  but her two greatest strengths are the temprament she bestows on her babies and her ability to come back into strong milk production the minute the first green blade of grass shows up in the spring.  Because of those qualities, we want Selene's genetics in our herd.  If you are looking for pet wethers or for does who will be as much members of the family as milk providers, you want  one of Selene's babies - our own pet wether Heliotrope is her boy.  Selene's long lactation curve, and ability to do well on grass mean that she is admirably suited to a low-input world.  Like we said, she's special.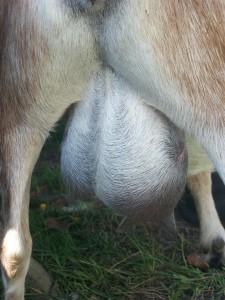 Selene's Udder.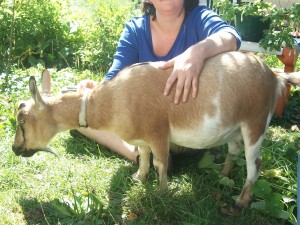 Weathertop Farm Jessie was really nervous about her photo shoot, and felt better having it on my lap.  She's a sweetie that one.  She's also a butterball - which is great.  Most of our does come from the deer-like, thin strain of Nigerian Dwarf goats, but there are compelling reasons to want Jessie's beautiful genetics in our herd.  She produces gorgeous, solid goats who hold onto their body fat - the others sometimes put too much of themselves into the pail.  But there's no shortage of milk - she was our best first freshener until Arava came along to steal the title, and she's a fine producer.  That body capacity means she can produce a lot of milk.  She also throws perfect, beautiful kids - her first kidding produced what our friends Jamey and Carol described as the most beautiful doeling they'd ever had, and the first boy they ever sold as a buck.  Her second produced Stachys, who will stay on the farm as a buckling.  Her genetics are great - she's the daughter of Cesar's Villa LV Erica and Cornerstone Farms Nekoda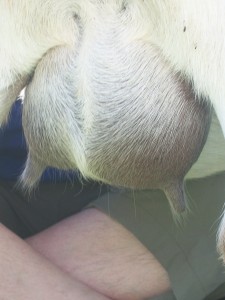 Jessie's spectacular udder!
Jessie has a gentle temperament, and passes that along to her babies as well - we're planning on breeding her to Frodo again for 2011.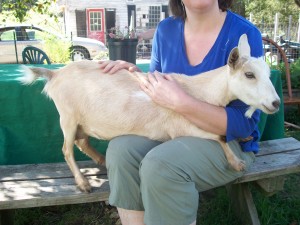 Weathertop Farm Bast was feeling cuddly here too!  Bast is pretty much the dream combination - her sire was Gil-Galad, Frodo's nephew, and her dam was Mina's daughter Celeste and that's a stunning combination - Bast had the best first-freshening udder I've ever seen, and her production was astonishing.  She gave us gorgeous triplets this year, fed them all, and even had extra as a first freshener.  Now that her two boys are weaned off, she's our number-three producer - as a first freshener.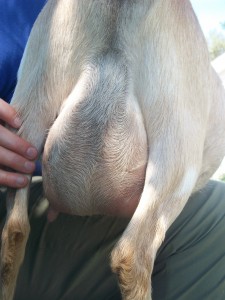 Bast's udder
We're going to repeat the tight line-breeding on Frodo this year, since the results were so stunning!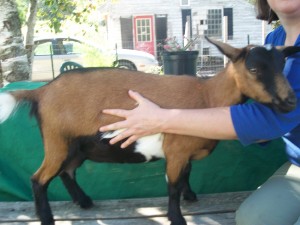 Arava is Maia's daughter from 2009, out of Dawnland S Lord of the Dance (aka, Wiggy), and in many ways, she's an improvement on her already terrific Mom.  The size and shape of her udder, attachments and the size of her teats are all wonderful - she's our easiest hand milker, and it is a pleasure to milk her.  Maia's only serious weakness is that her teats are a little small - Arava makes that up in spades.  She's a good milker, easy to handle, friendly and sweet natured, just like her Mom, and beautiful!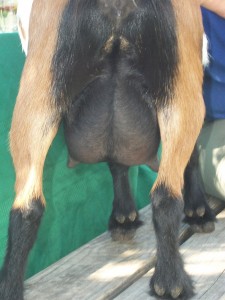 Look at that udder!
She and Frodo produced a lovely daughter this year, and we're hoping for more from the same breeding next year.
BTW, all udder pictures are taken about halfway through the day - we don't "inflate" our pictures by waiting until they are over-full

.