Sharon February 18th, 2008
…Except Crunchy Chicken. One of the things I like best about Crunchy's writing is her straightforward bluntness on bodily issues. In fact, she rather puts me to shame – I was once famous for that sort of thing. When I was doing AIDS education, I used to do a "15 ways to put a condom on a banana (or a partner)" demo that managed to embarass almost everyone. But since I've become a staid peak oil and climate change writer, I've hardly even mentioned bodily fluids or the orifices from which they flow. This is a pity, and must change.
Well, Crunchy has done me one much better – she's not only talking about menstruation, she's making change in the world. Millions of young African women miss school because they have no menstrual supplies. Commercial makers of disposables are supplying some of them – and getting a lot of advertising credit for it, but the pads are then burnt, and the free supplies are a temporary measure, designed to create a market for disposable products many poor women and girls can ill afford. Crunchy has started a non-profit, working with aid agencies, to get women to sew or donate reusable pads to these women – and asked me if I'd help. Not only do I want to help, but I can't say enough how much admire Crunchy's passion – and her speed. It was less than a week before she had a project up and going.
So I strongly recommend that all of my readers read Crunchy's posts on this matter:#2008/02/last-monday-i-posted-about-how-i-was.html and #2008/02/using-your-sewing-skills-for-good.html and visit her new website here: http://www.goods4girls.org/ and make a donation, either of your time or money. I will be.
You will also soon be able to donate through this site, but as you all know, I'm a techno-moron, and the addition of something as complex as a donation button to my blog is way, way beyond my skills. So I'm relying on a kind friend to help me.
And, as long as we're talking bodily fluids here, may I also recommend that everyone think seriously about their own, as well as the menstrual needs of the world's poor. Disposable menstrual products bite – they aren't as pleasant or comfortable as the reusable ones, they cost tons more, and they add to landfill waste and used ones produce methane, an greenhouse gas with many times the warming power of carbon. While teenage girls may not yet be ready to carry around used pads (although it is perfectly possible to do so very discreetly), all us grownup women have no excuse.
You have a whole host of choices here – long lasting, very comfortable cups like the Keeper and the Diva Cup (I have a diva):http://www.gladrags.com/category/menstrual-cups, and various cloth pads that can be made: Note, the ppatterns Crunchy is using work well for ourselves too: http://www.goods4girls.org/2008/02/sewing-patterns.html or bought: http://www.moonpads.com/ or some other site – my own come from gladrags, and I've been very happy with them:http://www.gladrags.com/ but She Who Must Be Crunched has a list here:http://www.goods4girls.org/2008/02/how-to-donate.html.
While you are doing good in Africa, if you aren't using reusable menstrual supplies, do good here, for us and the entire planet, and switch over.
And men, I don't want to hear any whinging about this post. In fact, unless you are gay or celibate and never interact with women under 60, you should be reading this with some interest. Perhaps you have a daughter, a friend, a sister, or a wife who might be interested in this information. There are lots of women out there who might be nervous about doing this because they've been taught that menstruation is dirty or bad. It helps to have a husband or friend who deals matter of factly with your period, and who (if the relationship is intimate enough to allow for this) is gently encouraging (without pressure) to make the conversion.
And please, folks, donate to Crunchy's project. It is such a little thing – and a huge thing – women's education is enormously important for their political and social status, their reproductive future (education is tightly correlated with birthrates) and their economic and environmental security. It would be easy to underestimate how important this is. Fortunately, Crunchy hasn't!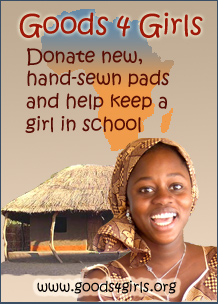 And next on the bodily fluids parade: the reusable condom, its engineering and the future of sperm (which isn't actually a joke – I've written about this: http://casaubonsbook.blogspot.com/2006/09/hey-engineers.html)
Cheers,
Sharon