Sharon October 12th, 2011
My friend Michelle took home Maia, Bast, Meadowsweet and Kahlua, so this year's does are now all settled and sold, but we do have wethers and a buck looking for a good home.  Check them out:
First, our buck - Goldenrod is a tight linebreeding on Frodo (RingBearer) who was David Funk's herd sire, out of Bast, who is a Gil-Galad (Frodo's nephew) daughter.  Goldenrod is turning into a beautiful buck - but we are bucked up.  He is ready for the breeding season and has both a lovely personality and amazing milking lines.  Cost is $250, email for details [email protected]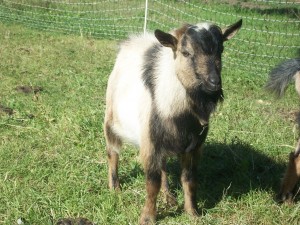 We think that Riesling may actually be wearing eyeliner - how else can you explain those amazing eyes?  He's a sweet, snuggly, friendly little wether who loves being a pet, eating brush and playing with his brother, Merlot.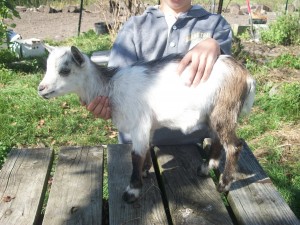 And here's Merlot: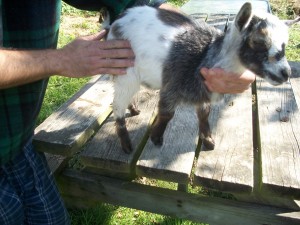 They are both Selene's babies, which means they get that big, friendly personality from her.  They'd be superb pets, brush cleaners and buddies.  Both are 9 weeks old.
Amaretto has the coloration of the drink he's named after, and is mellow, curious and friendly.  He would love it if you sat down nearby so he could climb on your lap and taste your clothes while you scratch his head.  Amaretto is 11 weeks and ready to go home!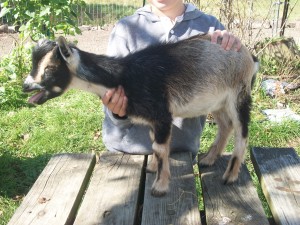 Amaretto is generally an easy-going guy, but he could see the raspberry bushes and was dying to get into them here!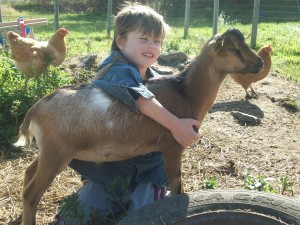 Orpheus (seen here with Isaiah, 7) is a sweetie-pie who loves attention.  You can't see the gorgeous white spots on his other side in this picture, but he is a handsome guy.  He's big and healthy and was born in April, and ideally would love to go home with his twin brother Daedalus.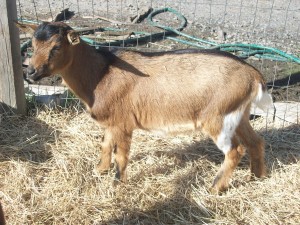 Daedalus is another beauty, and very friendly.  He loves to play king of the hill, and is a leader among the baby goats.  He's not too proud to be scratched behind the ears, either.
All goats other than goldenrod are wethers, all are $75 to good homes.  We will not sell one goat unless you already have goats - they are herd animals and that would be cruel to them.  We provide support to new goatkeepers.  Email me for details [email protected]
Sharon